Fairtrade raw organic criollo cocoa paste - 100% cocoa
Nobody has posted a review yet in this language
100% criollo variety raw cocoa paste. Without lecithin, without sugar. Only organic cocoa bean!
Organic raw cocoa paste in bar - 100% raw cocoa
100 % cocoa paste in bar / RRRaw Factory
Available in 200g and in bulk of 1kg
Cocoa paste is used like classic dark chocolate bars. You can melt it to make a chocolate mousse, cut it into chips to add it to cakes with a good cocoa taste, grate it in a smoothie, and why not test it in your savory dishes: it can also be used like a spice!
> E-BOOK Cocoa recipes (soon online)
Cocoa is a medicinal plant. The Olmecs (1500-400 BC) consumed the crushed bean in a hot drink with other spices, chilli and herbs. Over time, the Mayas (600 BC) and the Aztecs (400 AD) intensified the cultivation of the cocoa tree, the bean became sacred and was used in religious rituals. The first name of the tree is, by the way, "Theobroma" or "food of the Gods" in Greek.
Symbol of abundance, the cocoa drink remained a privilege for the upper classes and the soldiers during the battle: indeed the invigorating and fortifying virtues of cocoa were recognized and were used to give courage for the war.
The bean also became a currency of exchange at this time.
Arriving at the Spanish court in 1528, Europeans add sugar, vanilla and cinnamon to the drink to reduce its bitterness. In the 17th century, the consumption of cocoa gradually spread throughout Europe, roasting then became essential for the conservation of beans and little by little cocoa became chocolate as we all know it today.
Today, our knowledge and our techniques enable us to go without the burning step to preserve cocoa without any health problem. But until then, the manufacture of chocolate had never been questioned. We are proud to offer you the products of one of the pioneers of raw cocoa in France: Rrraw Cacao Factory.
Because there is a difference between chocolate and raw cocoa, watch this short video from the founder of Rrraw Factory:
Manufactured in a workshop in Paris: the raw cocoa beans are shelled to keep only the chips. The raw cocoa chips are then very finely crushed, cold in a grindstone made of stones for 3 days, with just a little cocoa butter. Thanks to this process without roasting or cooking, all the aromatic power and nutritional properties of raw cocoa are preserved.
Discover the interview by Eric of Sébastien, responsible for the production of Rrraw chocolates, who explains everything there is to know!
The used beans are of criollo variety, purchased directly from Peruvian producers. You should know that there are mainly 3 varieties of beans:
- Forastero: the most cultivated in the world, its crop yield is high and it is very resistant to diseases. However, it has little aroma and a pronounced bitterness. It is the one used in industrial chocolates.

- Trinitario: hybrid between the 2 other varieties, it represents approximately 10/15% of world production. It is characterized by its cocoa butter content and much more developed aromas.
- Criollo: the noblest variety, its crop yield is low and global warming disrupts its production, which makes it exceptional. It has a powerful, fine and aromatic taste. Very slightly acidic and almost without bitterness, criollo is the most interesting from an aromatic point of view. The criollo is also interesting for its fruity secondary notes which remain for a long time in the mouth, there are notes of nuts, caramel and even blueberries!
For us, in addition to the quality of the final product, choosing criollo also means helping small producers, preserving the ancestral know-how of local populations and making this original old variety thrive.
Health benefits of raw cocoa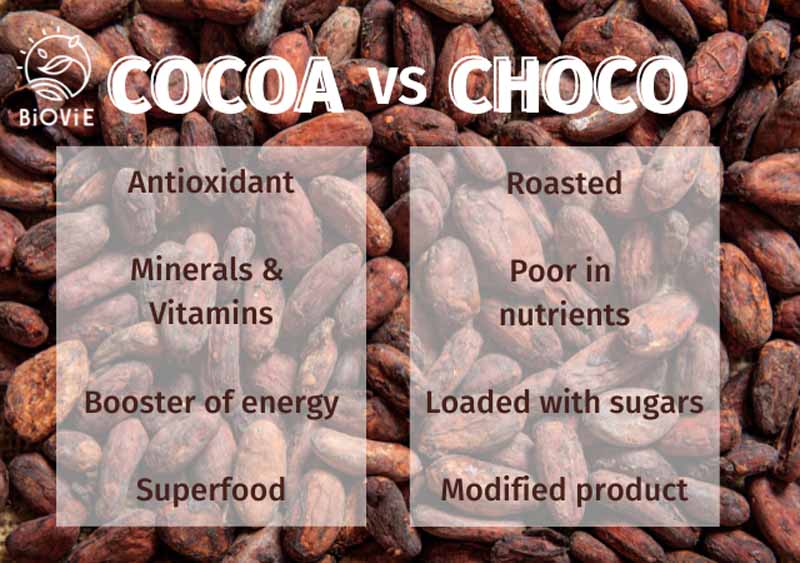 Dark chocolate (> 70%) is known to be good for physical & mental health. What about raw cocoa! It is a concentrate of energy and benefits for our body.
Raw cocoa contains 4x more antioxidants than classic dark chocolate. This antioxidant power is 20 to 50 times higher than the one of C and E vitamins!
Antioxidants enable to limit the aging of our cells, they reduce the cardiovascular risk by improving blood circulation and would even have an anti-cholesterol effect by preventing the oxidation of lipoproteins.
Thanks to theobromine (a molecule only present in mate, guarana and raw cocoa): it stimulates our central nervous system, releases adrenaline and blocks fatigue receptors.
For this, raw cocoa is not recommended for young children.
Cocoa beans contain a molecule (PEA) that the brain naturally produces during a lightning strike, for example. The remedy for temporary depression, and yes it is a molecule linked to joy!
Scientific studies prove it: dark chocolate is good for mental health. Raw cocoa, much richer in magnesium, is even more. Magnesium helps regulate mood and has anti-stress power.
In addition, cocoa releases serotonin, a hormone responsible for well-being and happiness, which makes you feel relaxed ;-)
Our partner: Rrraw Cacao Factory
Rrraw was originally launched by Sébastien Marr, an expert in plants fermentation and germination and a fan of raw food.
After discovering raw cocoa in America - the taste of which is not always there - he gave himself a mission once coming back to France: to bring taste excellence and nutritional good sense back together.
Rrraw Cacao is a quality chocolate which keeps the "magic powers" of cocoa and flavors adapted to our French palate.
The beans are:
organic,

semi-wild,

from the Amazon rainforest and more precisely from Peru, in an inter Andean valley located at an altitude of 800 meters.
These very low yielding Criollo cocoa trees produce a grand cru, which reveals rare and subtle flavors.
The beans are ethically cultivated with Cœur de Forêt association, which fights for the protection of the primary forest and the native populations who live there. The cocoa trees grow quietly in the shade of the forests, far from the opacity of the industrial chocolate sector.
Discover the links between Rrraw and Cœur de Forêt association in this short video from France 2 channel:
How do you get a raw cocoa bean?
The beans go through 3 fermentations, then a rinse and a drying in the sun below 42°C. A very precise process that eliminates the need for roasting to keep the bean intact during transport. It thus reveals all the primary aromas of cocoa and the original benefits of the plant.
For all other products, Rrraw Cacao Factory only uses natural products (dehydrated fruits, spices), no allergens (such as milk, soy, nuts) and can even replace coconut sugar with dates powder, to further improve the nutritional profile of chocolates.
The founder of Rrraw explains the history of his raw cocoa products:
DMD: 10 months from the date of production
Packaging: Resealable bag of 200g or 1kg.
The short supply chain as well as the just-in-time production from the bean to the shelf enable to avoid transportation between several intermediaries. Our packaging is up to 90% custom-made with recycled and / or recyclable paper / cardboard, French or European manufacturers, it is a packaging without wasted space.
The packaging, logistics and quality control of Rrraw products are managed by an ESAT which accommodates 65 adults with disabilities, mainly motor and mental, and offers them salaried work, enabling appropriate care and preparation for autonomy, whether it is financial or social.
Ces produits pourraient vous intéresser