Crunchy snack raw cocoa, buckwheat and durian
Nobody has posted a review yet in this language
Dehydrated crunchy with raw cocoa nibs and freeze-dried durian
200g bag
Exclusive collaboration RRRAW cacao x Biovie
THE Easter suprise
For Easter, this year, invite originality and raw cocoa into your baskets! We have developed exclusively with RRRaw Cacao a special recipe combining the best of 2 companies: the crunchiness of raw cocoa and Biovie's durian.
This "special Easter" limited edition snack is a super healthy chocolate crisp, which will delight you and the kids on Easter with zero guilt. Raw, dehydrated at low temperature, it is composed of cocoa nibs, activated buckwheat seeds, pumpkin seeds, powdered durian and a little coconut sugar to hold it all together.
All these ingredients are organic, except the durian (which does not yet exist organically).
We promise you an extraordinary and... addictive taste journey! Its particular taste is never too sweet, you never get tired of it. Approved by young and old around us, we advise you to give it a try for yourself to discover this gem.
As a bonus, the Crunchy combines the positive effects of raw cocoa, pumpkin seeds and durian to give you a boost, joy and energy, unlike traditional chocolates which tend to weigh down and tire after the Easter meal.
Manufacturing in their workshop: the raw cocoa beans are shelled to remove the skin, which surrounds them, then they are crushed into chips (or nibs).
French buckwheat is soaked in water to activate germination before being added to the preparation. The durian is mixed. The whole is then dehydrated at 40°C.
The Rrraw Cacao team has exceptional know-how, which we are happy to share with you for this unique creation.
Discover the interview by Eric of Sébastien, responsible for the production of Rrraw chocolates, who explains everything there is to know!
The used beans are of criollo variety, purchased directly from Peruvian producers. You should know that there are mainly 3 varieties of beans:
- Forastero: the most cultivated in the world, its crop yield is high and it is very resistant to diseases. However, it has little aroma and a pronounced bitterness. It is the one used in industrial chocolates.

- Trinitario: hybrid between the 2 other varieties, it represents approximately 10/15% of world production. It is characterized by its cocoa butter content and much more developed aromas.
- Criollo: the noblest variety, its crop yield is low and global warming disrupts its production, which makes it exceptional. It has a powerful, fine and aromatic taste. Very slightly acidic and almost without bitterness, criollo is the most interesting from an aromatic point of view. The criollo is also interesting for its fruity secondary notes which remain for a long time in the mouth, there are notes of nuts, caramel and even blueberries!
For us, in addition to the quality of the final product, choosing criollo also means helping small producers, preserving the ancestral know-how of local populations and making this original old variety thrive.
Health benefits of raw cocoa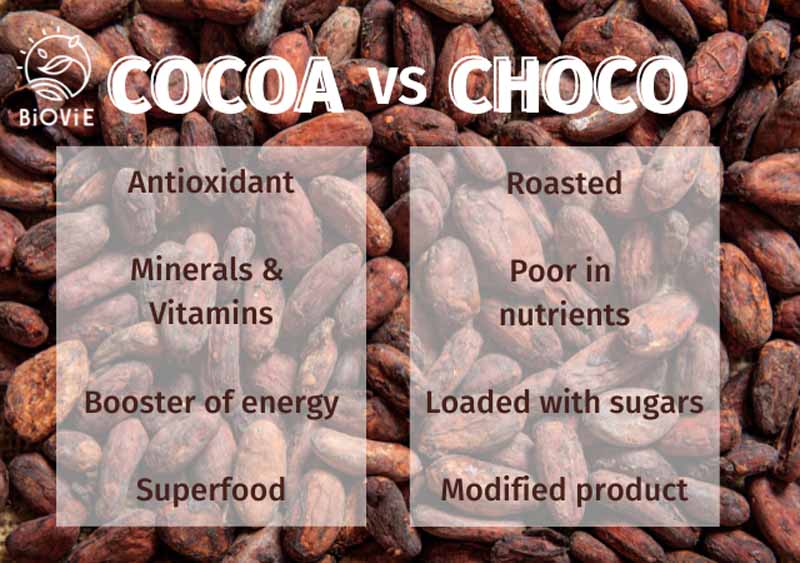 Dark chocolate (> 70%) is known to be good for physical & mental health. What about raw cocoa! It is a concentrate of energy and benefits for our body.
Raw cocoa contains 4x more antioxidants than classic dark chocolate. This antioxidant power is 20 to 50 times higher than the one of C and E vitamins!
Antioxidants enable to limit the aging of our cells, they reduce the cardiovascular risk by improving blood circulation and would even have an anti-cholesterol effect by preventing the oxidation of lipoproteins.
Thanks to theobromine (a molecule only present in mate, guarana and raw cocoa): it stimulates our central nervous system, releases adrenaline and blocks fatigue receptors.
For this, raw cocoa is not recommended for young children.
Cocoa beans contain a molecule (PEA) that the brain naturally produces during a lightning strike, for example. The remedy for temporary depression, and yes it is a molecule linked to joy!
Scientific studies prove it: dark chocolate is good for mental health. Raw cocoa, much richer in magnesium, is even more. Magnesium helps regulate mood and has anti-stress power.
In addition, cocoa releases serotonin, a hormone responsible for well-being and happiness, which makes you feel relaxed ;-)
As for buckwheat, it is a good source of B3 vitamin, B9 vitamin, magnesium, phosphorus, potassium, copper, zinc, iron. It is known to be a source of fiber and protein, with a low glycemic load. It helps maintain good cardiovascular health and has a strong antioxidant power.
Pumpkin seed contains a multitude of minerals: zinc, phosphorus, copper, potassium, calcium, magnesium; and A, B1 and B2 vitamins. It is recognized for its benefits on the urinary system and the prostate, it increases the feeling of satiety and fights against fatigue.
Our partner: Rrraw Cacao Factory
Rrraw was originally launched by Sébastien Marr, an expert in plants fermentation and germination and a fan of raw food.
After discovering raw cocoa in America - the taste of which is not always there - he gave himself a mission once coming back to France: to bring taste excellence and nutritional good sense back together.
Rrraw Cacao is a quality chocolate which keeps the "magic powers" of cocoa and flavors adapted to our French palate.
The beans are:
organic,

semi-wild,

from the Amazon rainforest and more precisely from Peru, in an inter Andean valley located at an altitude of 800 meters.
These very low yielding Criollo cocoa trees produce a grand cru, which reveals rare and subtle flavors.
The beans are ethically cultivated with Cœur de Forêt association, which fights for the protection of the primary forest and the native populations who live there. The cocoa trees grow quietly in the shade of the forests, far from the opacity of the industrial chocolate sector.
Discover the links between Rrraw and Cœur de Forêt association in this short video from France 2 channel:
How do you get a raw cocoa bean?
The beans go through 3 fermentations, then a rinse and a drying in the sun below 42°C. A very precise process that eliminates the need for roasting to keep the bean intact during transport. It thus reveals all the primary aromas of cocoa and the original benefits of the plant.
For all other products, Rrraw Cacao Factory only uses natural products (dehydrated fruits, spices), no allergens (such as milk, soy, nuts) and can even replace coconut sugar with dates powder, to further improve the nutritional profile of chocolates.
The founder of Rrraw explains the history of his raw cocoa products:
DMD: 4 months from the date of production
Packaging: 200g recyclable plastic bag
The packaging, logistics and quality control of Rrraw products are managed by an ESAT (a place of assisted employment for disabled persons) which welcomes 65 adults with disabilities, mainly motor and mental, and offers them salaried work, allowing appropriate care and preparation for the autonomy that be it financial or social.
Ingredients : raw cocoa nibs*, buckwheat*, pumpkin seeds*, freeze-dried durian, coconut sugar*
*ingredients from organic farming
Ces produits pourraient vous intéresser