Manual spiralizer
Nobody has posted a review yet in this language
Manual spiralizer, to make vegetable spaghettis in no time. Glass jar and stainless steel grid.
Manual Spiralizer in glass and stainless steel
Make raw vegetable spaghettis easily and simply with the Kilner spiralizer.
If you want to have fun in the kitchen or you're out of inspiration to get the kids to eat vegetables, the spiralizer is for you! In a few minutes, you get fruit or vegetable spirals full of vitality. Finally a bit of originality and impulse in your fruit and vegetable salads with this economical, ecological, durable and above all practical system.
You save time in cutting your vegetables, and without having a great chef's technique you can make very pretty plates. On top of that, it's fun: replace the wheat pasta with squash spaghettis and the children won't (almost) see a thing.
A very good way to increase the amount of vegetables in your meals!
Doesn't take up space. Unlike handle or crank spiralizers, this one is no bigger than a jar. It stores easily and can be taken everywhere: picnic, vacation spot, with friends...
It comes with a lid to keep your spaghettis in the fridge and can easily take it with you.
Its capacity is 1L.
Works without electricity, durable and reusable materials. It has no crank or complex mechanism, so no risk of breakage, the cutting grid is very resistant to wear.
Some examples of fruits and vegetables that you can cut easily: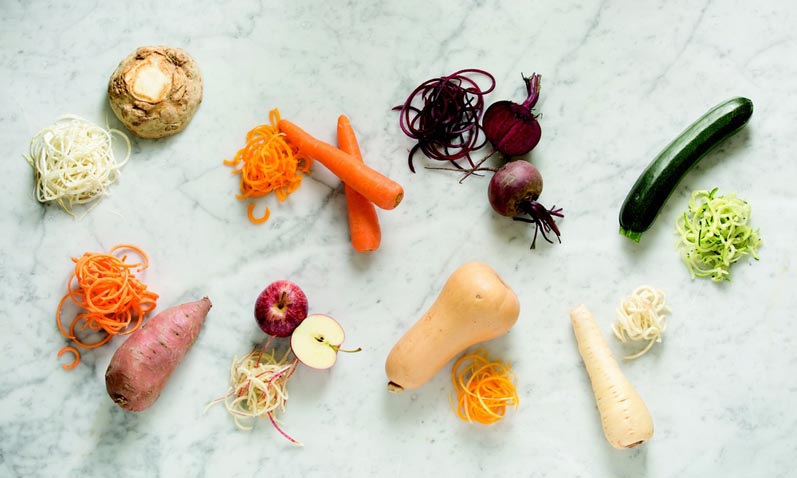 Ces produits pourraient vous intéresser