In thirteen years of existence, Eric and Aurélie Viard have made their company an essential actor of living food and alternative parenting in France. Innovative food products, inspiring books, creative online trainings... Here is an overview of Biovie's universe.
How is Biovie born?
Eric: I created Biovie in March 2007. The first reason of the company was to publish the first raw food book in France: the French translation of Healthful Cuisine written by Dr. Brian Clement, Director of the Hippocrates Health Institute in Florida. At the time, there were almost only U.S. people talking about this type of diet. In France, few people knew the raw food movement, which was at its early stages. Having finally not enough money to finance the publication of the book I turned to a parallel activity to raise funds: the commercialization of Easygreen automatic sprouters intended to easily grow sprouted seeds at home. At this stage, for several months, the sales activity took over, and the publication was waiting wisely. Then, in January 2009, I managed to publish the first French edition of the book to 5000 copies, thanks to the rights, which had been offered to me by The Hippocrates Health Institute. The trade activity continued and gradually expanded until Aurélie arrived in my life in 2015.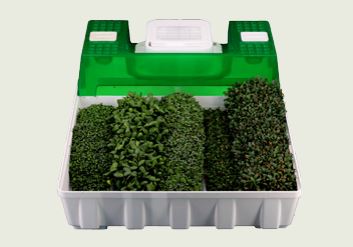 Can you explain how you have sustained the company?
Aurélie: In 2015, at the time, I was working in an organic store with food supplements. I chose this work because I couldn't manage very well my previous activity of artistic creation and sewing, alone with two dependent children. By working in this organic store, it was a year that I had changed my diet by opting for vegetarianism and raw food, that's how I met Eric, around this common interest. Quickly, Eric wanted to integrate me into Biovie's operation because we understood that our symbiosis would serve life.
Eric: Aurélie has come with a lot of creativity in the company, and together, little by little, we have expanded the products' range. First, following the requests of doctors and naturopaths who were interested to promote specific products (Lake Klamath algae, tigernuts, barley juice dehydrated at low temperature...) and also following the suggestion of some of our loyal customers (Japanese water filter, pollen, ghassoul clay...).
We have developed the editing activity little by little further to decisive encounters, and also in relation to our personal history as it is the case for books dealing with parenthood. Today, Biovie can count on a portfolio of 45,700 loyal customers, the majority of whom still orders almost once a month. This represents about 70 orders a day for B2C. We, also, of course, have a wholesaler activity for resellers.
Today, what is the spirit of Biovie?
Eric & Aurélie: One of the first values we support in the company is its authenticity: everything we decide to sell, we use it in our daily lives. Whether it is the fresh algae, the sprouter or the blender, the tigernuts or even the marine plasma... These products are truly foods that have been accompanying us for several years and that we wish to make accessible to the largest number of families who have chosen living food. We also give great interest to ethics, first ensuring that the products we distribute are Ecocert labeled. On this ethical level we also pay attention to the work of our suppliers' employees, that it is respectful of their health, and finally, always on this ethical level, we make sure that the industry we put in place is "clean" in the ecological meaning of the word, with a boat rather than by air, that the packagings are recycled or reusable...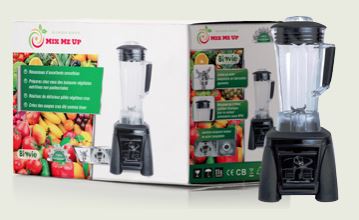 The third value characterizing the company is quality. We are very attentive to the fact that it is constant and that each sector is committed to it. We always move to meet our suppliers whether they are in Thailand, Tunisia or the United States.
Finally, the last value that stands us out from other similar companies is probably listening to our customers. We never produce market studies before launching a product, we rely more on our instinct, but on the other hand, we are extremely attentive to the feedback our customers make on our products. And we sometimes adapt the products according to these reviews. That is the case, for example, for the freeze-dried durian that we were only offering in 500g, and after many feedbacks, we will now offer it in 250g bag. For the marine plasma, it is the opposite, some customers asked us for a very large packaging, so we now sell it in 20 litres format.
Since the beginning, we have often given advantage to large packagings as they enable economies of scale and sales at a competitive price. But they also enable the buyers to be federated with each other in order to promote group purchases. And this, humanly, is interesting for us because customers meet each other to receive the products, which creates social tie. It is especially the case with our fresh coconuts that we often send by pallets to consumer groups, which have been created around this product.
What makes Biovie a different business?
Eric & Aurélie: Many aspects! Already, both of us are curious and we love innovation. You can theorically find it in the company.
We are committed to being at the forefront by offering innovative products so far not distributed in the French or European market. It was the case with fresh aloe-vera leaves, of which we sold almost twelve tons per week when we launched the industry.
In France we were the very first on this niche product. Later, after a few months, several other companies felt into step behind and the product has become popular, to the point of finding it in many French supermarkets, and that's why we stopped selling it online. But our goal of democratizing a quality product was achieved. For the marine plasma (the quinton plasma), it is still a different story: the supply of this product in France is in the hands of some companies holding a large monopoly and selling the product at an excessive price under small packagings. In this specific case, we have a real desire to change the established sectors and we have a personal satisfaction to offer a highly qualitative product at a much more interesting price...
for the tigernuts, it was medical reasons, which have made us interested in this product: the polyallergies preventing some children from consuming dairy products and also vegetable drinks based on oilseeds. Tigernut is a tuber, which does not cause any allergic problems, even for the most fragile. On the request of a renowned pediatrician, who was looking to guide his small allergic patients on this product, we decided to import it and it is a success, because in a year we have sold about two tons. In this instance, it is not innovation or trend for the trend: it helps many families out to be able to consume tigernuts in the form of plant-based milk they can produce themselves at home in addition, without much investment because this tuber costs only half the price of almonds.
In a nutshell, we have an interest in creating certain sectors, but for others, it is not always essential for us to continue them if other actors are on the niche.
There's room under the sun for everyone! Our will is clearly to innovate, but also to make others want to do so to improve the offer on the market. For the editing part, created in 2009, or the webinars (online raw cooking classes) we launched during the Covid-19 lockdown, our approach is about the same: to offer books or trainings bringing a real bonus to what is usually found about living food or parenthood. For books, we also have a true qualitative and especially ecological approach with the printer we chose. This is the most ecological and social printing company from France: it uses plant-based inks, pays its employees with equal pay between men and women, hires more people with disabilities than the average, receives trainees in school failure situations, the whole roof of the company is in solar panels, the commercials use electric vehicles, the employees who come by bike receive a premium, etc. In other words, it shares our values of integrity, loyalty and authenticity.
Finally, with Biovie, we put the human being and the ecology at the heart of our concerns, and it is truly what inspires us every morning.
In what ways can we say that Biovie is today a fair trade actor?
Eric: I have always wanted to set up sectors where I really knew the producers. This will was clearly sustained with the arrival of Aurélie, which matched with an extension of the products' range offered by Biovie.
Now, both of us, go regularly to the four corners of the planet, meet our suppliers to make a lasting connection with them. For the fresh coconuts, for example, in the space of two years, we completely made up the sector because before Biovie, no company in Europe had risked importing fresh coconuts. For that, in Thailande, we met Liu and Anthony and we pre-financed the crops at €70,000 to launch the industry and to sustain it. For a year and a half, we imported fresh coconuts on the basis of this partnership. Subsequently, we had to stop for a few months the importation because the very difficult blockades of December 2019 at Marseille's harbour prevented the unloading of our containers, and the diversion of a boat, during Christmas 2019, to Athens' harbour made us lose the goods. Liu has, on his side, picked himself up and found other opportunities with the United States in particular and continues to grow his business. The trusted relationship we have built with her has moved us, and it has been an important prerequisite to the commercial relationship we have built.
A last word?
Eric & Aurélie: We live a real change of paradigm at the social and environmental levels of course, but also at the enterprising level and a commercial activity today can no longer give it a miss on human beings, it is with this recognition that we contribute to the world of tomorrow.